by Markus on Apr.18, 2009, under Electronics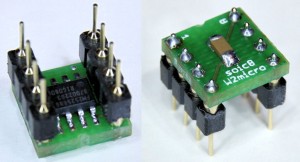 These days some of the coolest ICs are only available in SMD packages, e.g.
the fast SSP FRAM FM25256B-G and
the famous USB to RS232 converter chip FT-232.
For me as a hobbyist that's a problem, because I don't have the equipment to etch PCBs, and I want to develop my circuits on breadboards.

Fortunately there are some SMD adapter boards available. So yesterday I soldered two SSOP-28 chips on adapter boards. Soldering with a pin distance of 0.65mm is a challenging task – and for me it's definitely the limit. Using good and thin solder (0.5mm) and a soldering rod with a very thin tip are two of the most important premises. Another one is a tremble-free hand.
What I do not like about the SSOP-28 adapters though, is that there are two rows of pins on each side of the chip. This is not good for breadboards. But hey: it's still lots better than SMD.
For SOIC-8 however, I am very happy that I found better adapter boards. When assembled, the SMD chip can be used like an ordinary DIL-8. The adapter boards are available in Germany from W2micro. They are cheap, and they come complete with double sided SIL sockets and even with SMD capacitors. Thumbs up for this solution. The guys from W2micro really saved my day.
Do  you know about other great SMD solutions? Let me know in the comments.
:
SMD