by Markus on May.29, 2010, under Electronics
Until yesterday I was not happy with lighting when drilling PCBs: It was either too dark or there were cast shadows (of my fingers or the drill itself). So I had to concentrate hard on drilling all the holes correctly centered where they belong.

But now my problem is solved: I built a ring of 20 sunny-white SMD LEDs. It can easily be attached to my multi-tool and – as you can see on the photos – it always assures perfect light for drilling.
The first version last week was built with 10 LEDs only. I was not happy with the result then: the cast shadows of the drill were still distracting.

The LEDs are driven with constant-current of 20mA. 2 x 10 LEDs are connected in series. I built the power-supply some time ago for a different project. I plan to report on this 70-LEDs-Macro-Ringlight project (along with its power supply) in this blog soon, so I won't go into more details now.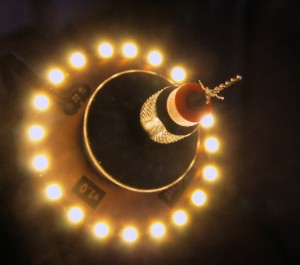 You can download the KiCad project files and the board layout as PDF. The layout should fit various LED package sizes, but works best with 3020. The board has a diameter of 46mm, which I consider a good compromise of good illumination and small size.
:DIY, LED, SMD